Brisbane City Map
Queensland's capital city of Brisbane is dissected by the Brisbane River which is crossed by the Story Bridge, the Captain Cook Bridge, and Victoria Bridge along with a number of walking bridges of interesting designs.
North of the river are the Botanic Gardens, Parliament House, Conrad Treasury Casino, Queen Street Mall, the Myer Centre, City Hall and the Brisbane Transit Centre. This area is the main CBD and the primary shopping district for the city.
On the south bank of the river live the South Bank Parklands, Art Gallery and Cultural Centre, Queensland Museum, Brisbane Convention & Exhibition Centre and the Brisbane Wheel.
The South Bank Parklands are a wonderful spot full of gardens, city views, streams and even a man-made swimming lagoon with a lifeguard.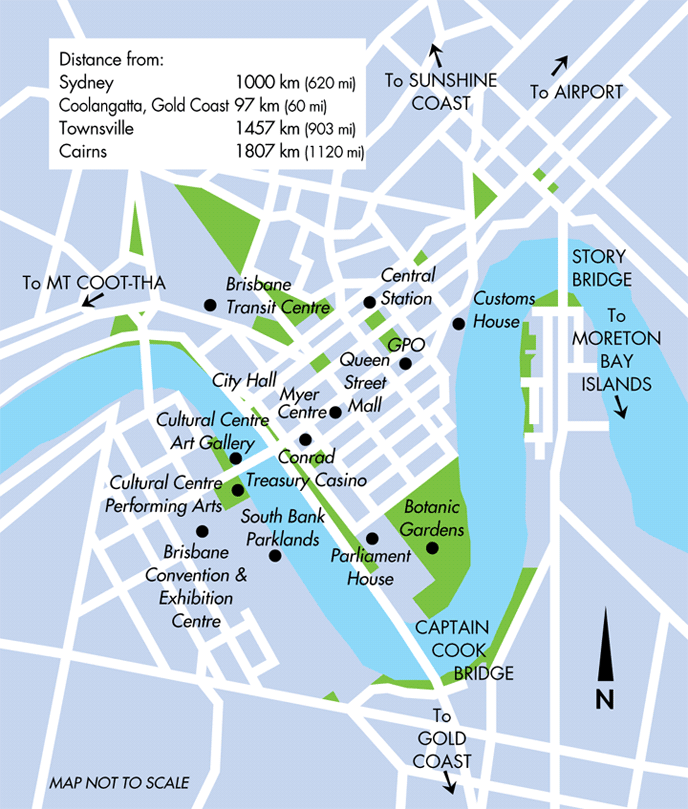 Brisbane Map, Queensland Tourism
This map is not to be reproduced outside Queensland Tourism guidelines. e-CBD is not able to give permission to reproduce this map.