Rockhampton to Bundaberg Map Showing Gladstone
This map shows a stretch of the Queensland coastline ranging from Bundaberg in the south to Rockhampton in the north - with the main town in between being the town of Gladstone.
Locations around Bundaberg include Woodgate, Childers, Gin Gin, Wallaville, Mount Perry, Bargara, Burnett Head and Moore Park. Surrounding Gladstone is Agnes Waters, Town of 1770, Miriam Vale, Bororen, Calliope, Monto, Biloela and Tannum Sands. Around Rockhampton is Port Alma, Mount Morgan, Gracemere, Keppel Sands, Emu Park, Rosslyn Bay, Yeppoon, with Great Keppel Island out to sea.
More islands in the region include Wilson Island, Northwest Island, Heron Island, Masthead Island, Lady Musgrave Island, Boyne Island and Lady Elliot Island. The Great Barrier Reef lies out to sea with several mountain ranges including Castle Tower National Park, Many Peaks Range, Calliope Range, Dawes Range and Burnett Range dominating the inland areas.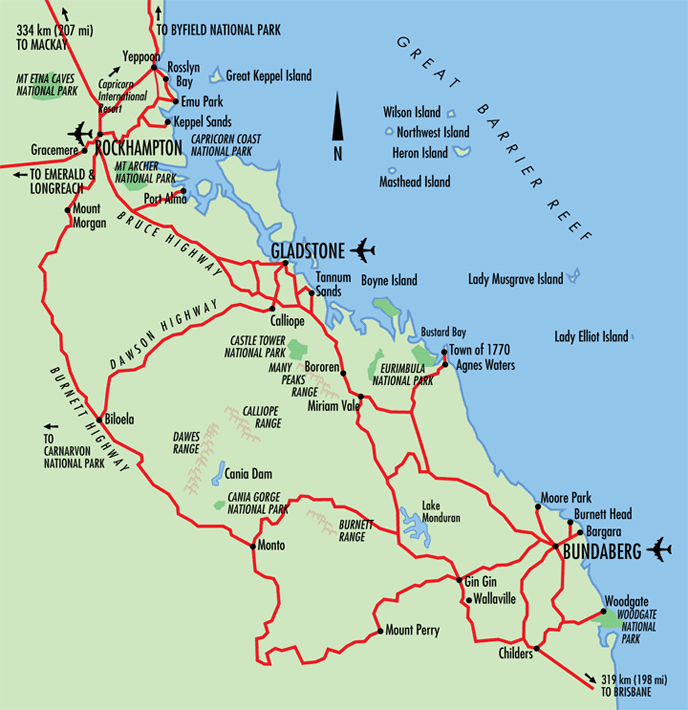 Rockhampton to Bundaberg Map, Queensland Tourism
This map is not to be reproduced outside Queensland Tourism guidelines. e-CBD is not able to give permission to reproduce this map.